Black Friday is coming! Hainan Airlines Offers Black Friday U.S. to China Flights Flash Sale, Economy Class From $460, Business Class From $2190.
In addition, you can earn 6,000 bonus miles for Economy Class and 20,000 for Business Class. Register Here>>
If you already have points with Hainan Airlines, from now to Nov. 28th, you can use your points just like cash and save up to 50% off your ticket cost. Learn more, click here>>
Flash Sale ends on Nov. 26th (EST)
Terms and conditions apply.
Hainan Airlines has been operating safely for over 22 years, and we have won the SKYTRAX Five-Star Airline Award for 6 consecutive years. We welcome you to enjoy our cherished experience.
Sales Detail: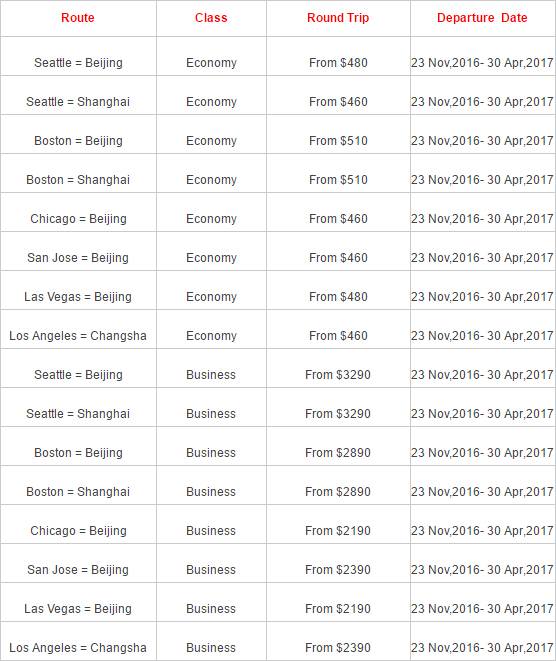 Chicago - Beijing【01/07-01/24】:
Seattle - Beijing【01/15-01/27】
【Terms and cnditions】
Applicable flight dates: 23 Nov. 2016 to 30th Apr. 2017, GMT Time.
Minimum stay: 3 days; Maximum stay: 3 months;
The displayed routes are nonstop and round-trip flights only. More routes or one-trip flight from the United States to China can be searched in the panel below;
This offer cannot be combined with any other promotions or coupons (Coupons cannot be applied for Class R/T);
All fares above are round trip, including taxes and fees. Limited seats available;
Child discount: 75% of adult fare; Infant discount: 10% of adult fare;
Hainan Airlines may not honor the passenger's ticket if the first flight coupon for international travel has not been used and the passenger commences his journey at any stopover or agreed stopping place;
Endorsement Charge:Business Class USD 250 Economy Class USD 200. Refund Charge: Business Class USD 400 Economy Class USD 450.
Hainan Airlines has the final interpretation of authority.